BB.suit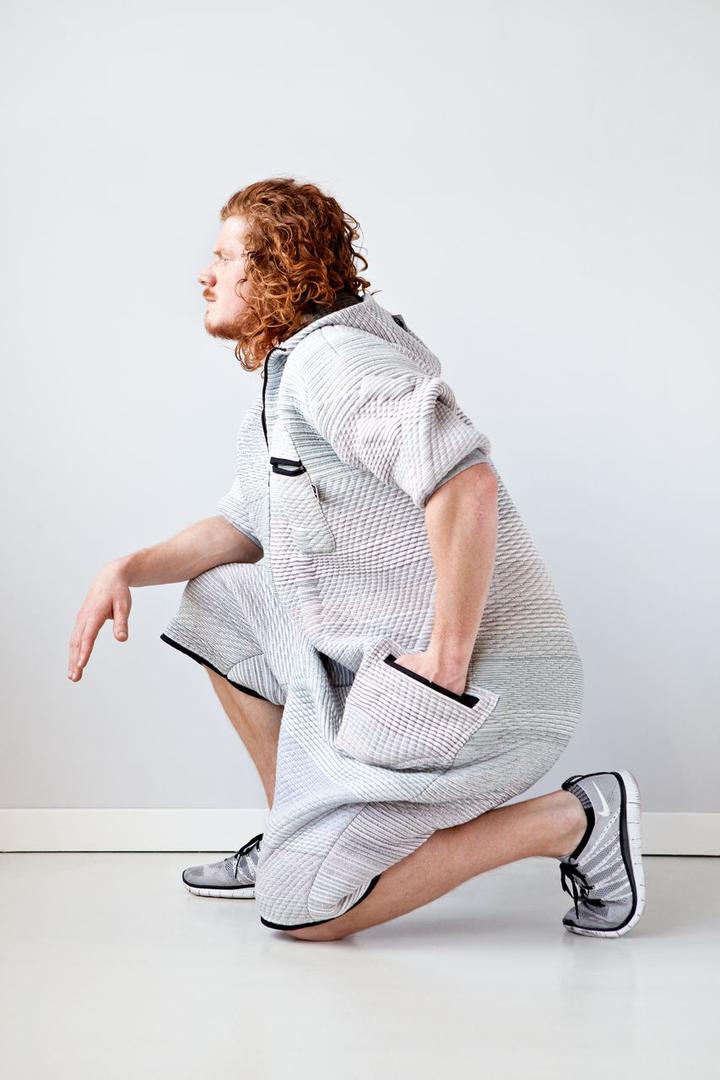 A high-tech 3D-knitted onesie
The BB.Suit is about creating awareness of what wearable technology could mean for us in the future. We are surrounded by textiles every moment of our lives, imagine that it could be more than just a functional layer. The clothing we wear could help us in our everyday life as well as with solving environmental problems. By exploring the possibilities of combining circular knitting and the integration of technology into the fabric we enabled the onesies to have different functions, depending on the context that the project is placed.
BB.Suit making proces. Video by Luke Smits.
BB.Suit 0.1: Access anywhere
BB.Suit v1 showcases a new way of 3D knitting by embedding copper yarns for connecting Wifi and GPS technology inside. The suit was tested during SXSW, a music and technology festival in Austin (USA). A model's location was broadcasted on Google Maps and invited musicians to upload their tracks to a purpose-built website that uses the suit as a walking URL. The prototype was a success and helped to curate an eclectic playlist, but more importantly, it demonstrated how truly wearable technology could lead to vastly different user experiences. The shape of the 3D knitted garment is defined by the graphics, and contains pockets with space in the fabric to store the chips needed for the GPS, WIFI and future options. The two layers of cotton hide, protect and route the copper cables between the components.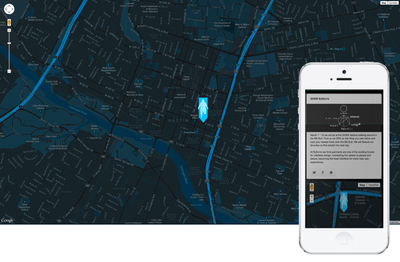 BB.Suit 0.2: Pollution purified
Taking inspiration from Beijing's air pollution issues, "BB Suit: Wearable Clean Air" is about raising awareness of what wearable technology can mean for us in the future. The unique functionality of this instance of the BB.Suit is the Cold Plasma technology and air quality measurement technology, both integrated into the fabric. Cold Plasma is a technology, which splits oxygen and water molecules into free radicals. These radicals react easily with toxic gases, bacteria, viruses and dust in order to clean the air. Since our clothing is constantly in contact with the air surrounding us it creates an opportunity to clean the polluted air. The integrated air quality sensor generates location-based data by measuring the concentration of Carbon Monoxide, Methane and LPG in the air. When combining this data from all the wearers, a precise analysis of the air quality can be made, enabling people to react more effective to the pollution.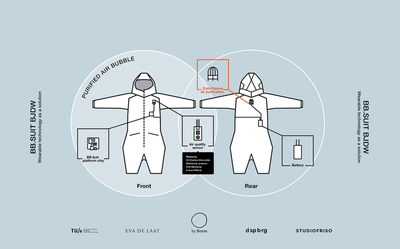 Details
Designers: Borre Akkersdijk, Martijn ten Bhömer, Eva de Laat
Partners: TU/e, byBorre, 22Tracks, Daan Spangenberg Graphics & Want.nl
Students: Angeliki Sioliou, Rachel van Berlo, Orfeas Lyras, Camila Mosso Buron, Tim Scheffer & Anqi Li
Materials: Cotton, Bekinox conductive yarns, Elektrisola yarn, Ohmatex cable, GPS receiver, Carbon Monoxide sensor, Methane sensor, LPG sensor, Squair air purifier, WiFi module, Battery
Techniques: Knitting, Felting, Overlocking, Hand sewing, Soldering, 3D printing, Programming
My role in collaboration: Technology development, Integration of textile and technology & Interaction design