Vibe-ing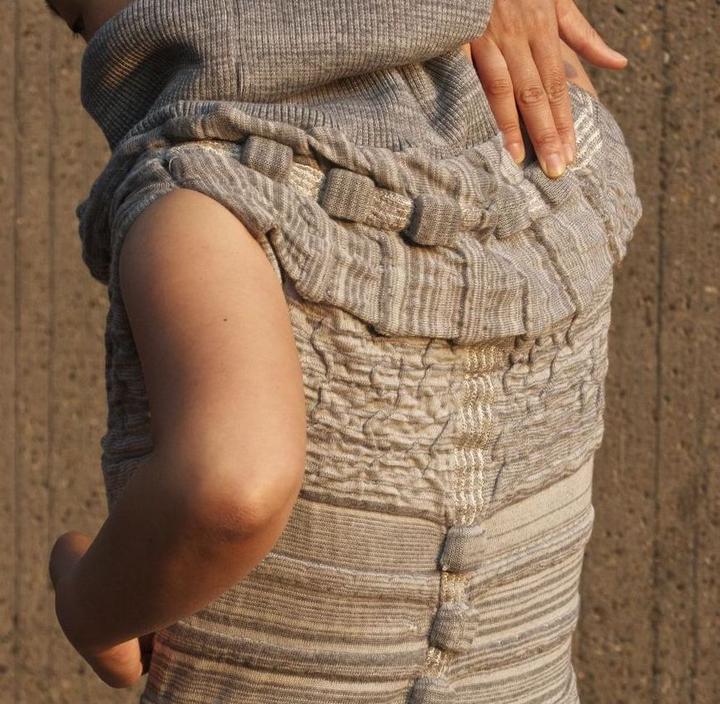 A self-care tool for personal well-being
Vibe-ing is a self-care tool for well-being in the form of a garment which invites the body to feel, move, and heal through vibration therapy. Through stimulating selected acupressure points on the body, the garment allows for subtle exploration and connection with oneself. The knitting and felting technique to produce the garment resulted in a soft and bulky surface. This surface invites the wearer to stroke and touch the fabric and the body, which could have positive effects on the subjective well-being of the wearer by providing comfort. The natural properties of the merino wool are related to the textile comfort of the garment: they can regulate body temperature, have antibacterial properties, and feel soft.
Stimulating pressure points
Vibration has numerous positive therapeutic applications, such as the improvement of bone density and muscle strength, an increase of the speed of the blood flow through the body, and relieving and reducing pain by stimulating acupressure points on the body. The garment contains touch-sensitive areas that stimulate selected pressure points on the body with vibration. By combining vibration actuators with touch-sensitive areas, the design enables programming of the exact areas and type of stimulation on the body depending on the specific person's need.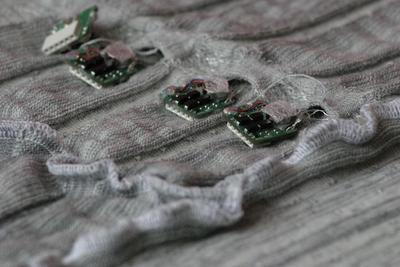 Programming the garment
The therapist or doctor can co-create vibration patterns together with the patient: for example, a vibration pattern on the shoulder to treat neck pain, based on a ripple pattern (similar to a wave in the water or sound traveling through air). A vibration starts in the pocket touched by the person wearing the garment, and the vibration slowly transfers to the surrounding pockets, until it fades away after a certain period. Data which is generated by the garment is stored and can be used to adapt the vibration patterns during the treatment. Vibe-ing has been produced using a fully fashioned knitting machine. This technique allowed us to create digitally designed, pre-shaped pieces for the garment. The textile contains pockets in which circuit boards with sensors (touch sensors) and actuators (vibration motors) can be placed.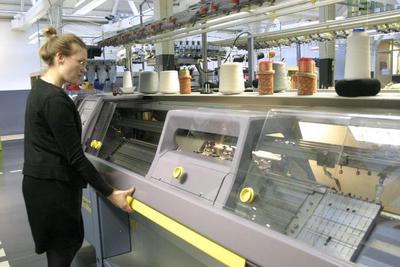 Details
Designers: Eunjeong Jeon, Kristi Kuusk, Martijn ten Bhömer, Jesse Asjes
Partners: TU/e, TextielMuseum TextielLab & Metatronics
Materials: Merino wool yarn, Lycra yarn, Polyester thread, Elektrisola textile wire, Bekinox conductive thread, Vibration motors, Custom CRISP motor PCB modules, 3D printed casings, Battery
Techniques: Knitting, Felting, Overlocking, Hand sewing, Soldering, 3D printing, Programming
My role in collaboration: Conceptualize the product with the other designers, Collaborate on the development of the fabric, Responsible for the integration of the electronics in the fabric and the interaction design of the vibration patterns in the garment